Montreal is Canada's second-largest city in terms of population. According to The Lonely Planet Guide, Montreal is "a French-infused city that is in love with festivals, arts, good food, living well and enjoying life to the hilt." So, it is no surprise that there are many plant-based restaurants in Montreal. Here is a list of the top ten vegan restaurants in Montreal.
A restaurant that specializes in Italian and vegan dishes. Their menu includes a large mix of pizzas. You can purchase a Caesar Salad for $10. The menu is somewhat limited but if you love a good pizza, then this is your place.
Address: 361 Rue Bernard O, Montréal, QC H2V 1T6, Canada
This place started in 2005, and is a food chain that has grown rapidly with stores in over 85 cities and 20 countries. They sell healthy burritos, salads, wraps, soups, and smoothies. Their Buddha's satay has 500 calories and contains "rice noodles, broccoli, carrots, cabbage, crispy wontons, green onions, and spicy peanut sauce."
Related Article: The Top 10 Plant-Based Delivery Services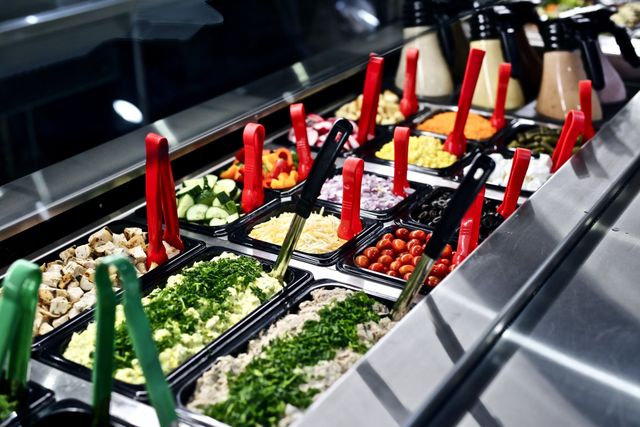 This is a fast-food restaurant that offers hot and cold breakfast buffets, a breakfast bar, salad bar, hot lunch buffet, sandwich bar, pasta bar, and snacks. This is a great place to purchase fast and economical meals while dining out.
Address: 200 Bay St, Toronto, ON M5J 2J3, Canada
This eatery offers a mix of Asian inspired dishes, with the menu being reasonably priced. They sell wok-fried, sautéed items along with bowls, rice, noodle dishes, sushi, and house specials. A sushi pizza known as pizza yasai or pizza tropical sells for $6.
Address: 2115 St Denis St, Montreal, Quebec H2X 3K8, Canada
Mandy's started in 2004 as a 'create your own salad' bar. There are now 7 locations in Montreal, and it is the go-to place for a gourmet salad. They offer signature salads, or you can create your own.
Address: 2067 Crescent St, Montreal, Quebec H3G 2C1, Canada
Related Article: Super Simple Vegan Meals for People Who Hate Cooking
A unique vegan restaurant that offers a mix of various dishes, brunch is available every day at Hello 123. A superfood burrito bowl sells for $15, while an almond vanilla cacao smoothie bowl is available for $11.50.
Address: 1122 Queen St W, Toronto, ON M6J 1H9, Canada
Bloom offers only plant-based sushi, and thus the restaurant is entirely meat-free. Selling a range of sushi options from futomaki to hosomaki, the sushi available is varied and has many choices. Their Soba Mango salad is available for $12.
Address: 368 Saint-Paul St W, Montreal, Quebec H2Y 2A6, Canada
A restaurant that cooks vegetarian Indian cuisine. Although only a limited selection of dishes is available, if you are looking for vegetarian Indian food, this is the place to visit.
Address: 4147 St Denis St, Montreal, Quebec H2W 2M7, Canada
A light menu is offered by Restaurant Venice, but they do not skimp on quality, offering fresh plant-based fare. A Venice Salad with kale, spinach, apple, and quinoa sells for $12.95 while a Malibu Salad is available for $13.95.
Address: 1045 Beaver Hall Hill, Montreal, Quebec H2Z 1S5, Canada
Related Article: A Nutritionist's Guide to Vegan Health During COVID-19
Trading Thursday to Sunday from 4 pm to 8 pm, Restaurant Umami Ramen offers a mix of fusion dishes. From the cold yuzu ramen to spicy creamy kimchi at $15.50 each, or the Agebitashi & Shiso Cold Eggplant Salad for $6.50, this restaurant offers healthy and nutritious plant-based meals.
Address: 6660 Clark St, Montreal, Quebec H2S 3E7, Canada